Just some brilliant music from The Weeknd. There was no warning on the release of his newest EP My Dear Melancholy and I wasn't prepared for just how
emotional of an EP it would be either. I mean thinking about it now it makes sense considering this is the first release of music from The Weeknd since his breakup with Selena Gomez. I might sound heartless to say but I am glad the two broke it off because this EP is easily my favourite stuff from The Weeknd. Now wait a second because that's not how I felt at first. Actually, I went in listening to the album with serious hater-ears, meaning I was ready to hate it and scrutinize it. Naturally I did hate it at first. My initial thought was "wow this sounds like everything else he's done" but by the third time I started to really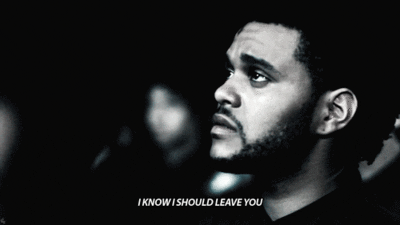 listen and got the full impact of the lyrics. The thing about The Weeknd is that his music is our only look into his life, thoughts, and feelings. It's no secret that The Weeknd does not do interviews and is pretty lowkey. When he first started out, I thought that was quite odd but eventually just accepted and then almost forgot about it altogether. So, when I heard this album the third time I realized not only is this the first time we're hearing him talk about his break up but probably the ONLY time since he refuses to do interviews. In the song Call Out My Name in which he sampled one of his own song Earned It, he sings:
"I said I didn't feel nothing, baby, but I lied
I almost cut a piece of myself for your life
Guess I was just another pit stop
'Til you made up your mind
You just wasted my time"
To which fans have taken to mean that he was going to donate his kidney to his ex-girlfriend Selena Gomez. As for the sound itself, yes I do think it sound very similar to a lot of his other work, I mean he did sample Earned It, but it's even possible that he did that on purpose? I mean the album is titled My Dear Melancholy. Maybe that's a stretch but it's a good enough reason for me so I'll go with that. The EP debuted at no.1 and now there is also a mini doc I Was Never There, that details the recording process behind the album.