Toronto based filmmaker Jamie Dagg is at again, after impressing with his 2015 thriller "River". His latest film "Sweet Virginia" was released on November 17th and features a strong cast including the likes of the Jon Bernthal (The Punisher, TV series) and Imogen Poots (28 Weeks Later). The Canadian connection continues as Dagg shot the flick entirely in Hope, B.C, to replicate the wilderness of Alaska as the backdrop.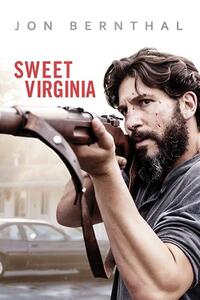 Bernthal plays Sam, a grizzly ex rodeo star, who suffered an injury that forced him to the sidelines. He's a rough and tumble tough guy who walks with a limp and now manages a motel in Shitsville, Alaska. Christopher Abbott (HBO's Girls) works magic as a low-rent hitman, Elwood, who bugs out and boards himself up in the motel. Abbott was also a big fan of the decision to film in Hope, he says, "I think it was a perfect setting for that movie." He elaborates by saying that being surrounded by mountains makes things feel kind of eerie and strange, helping fuel the feel of the movie.
Sam and Elwood strike up an apprehensive friendship given both of their statuses as outsiders and it's only a matter of time before their inner demons reveal themselves. Sweet Virginia avoids the clichéd set ups of the crime-thriller genre, while still managing to reach a heated climax that the film builds to. You can check out the trailer below.