It was thought that only the most devoted "True Believers" would know what to expect when Captain Marvel finally makes her way to the Marvel Cinematic Universe. But even the most fanatical Marvel follower never would have guessed that the Captain Marvel movie would act as prequel to the MCU set in the 1990s. Marvel Studios President Kevin Feige made the shocking announcement at San Diego Comic-Con this summer, and fans have been scratching their heads ever since. Where has Captain Marvel been over the course of the nearly 20-movie long Avengers saga?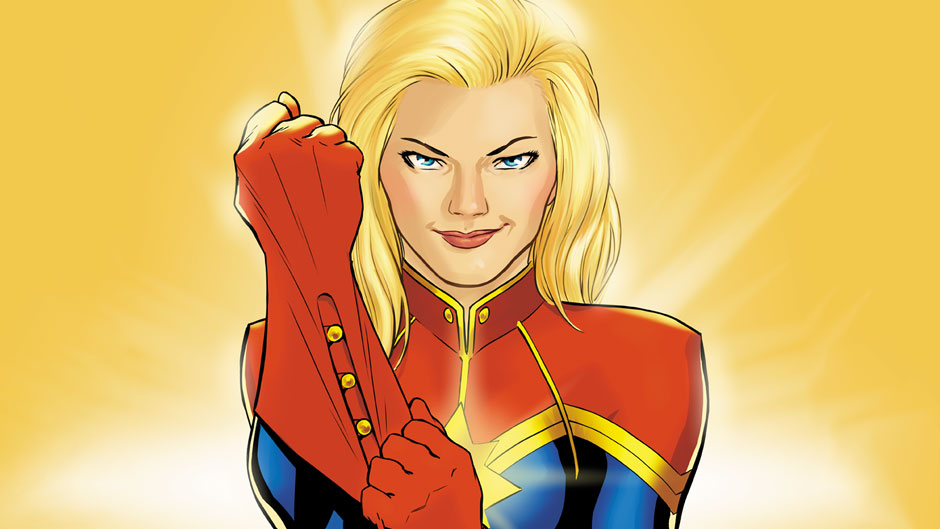 Fans have received an answer, sort of. At a media junket for the upcoming Thor: Ragnarok, Feige explained the femme fatale's absence, "The key is… out there" putting his arms into the air. Feige is obviously alluding to Captain Marvel's whereabouts being somewhere in the cosmos. She is a cosmic hero after all, much like the popular Guardians of the Galaxy. Her absence makes sense after all; her inclusion in the MCU from the beginning would have been a little silly. When she does finally make her way to the silver screen it will be obvious that she outmatches every single current Avenger.
Captain Marvel's first appearance has yet to be confirmed, and there's been plenty of speculation how Marvel's answer to Wonder Woman will be introduced it to the big screen. If I had to bet, I would think that they would take the Spider Man approach with her formal introduction the MCU. I think we'll first see the character, played by Brie Larson, in Infinity War in some capacity, even if it's just a brief cameo, so audiences will be familiar with her before her solo movie hits theatres in March 2019.
The solo outing is scheduled just two short months before the currently untitled Avengers movie, where Earth's Mightiest Heroes are expected to continue their battle with the godlike Thanos. The Avengers are going to need her, and any other firepower they get to take down Thanos and save the day.
Tweet us @Evolution1079 and let us know when you think we'll first see Captain Marvel in the MCU!
If you want to check out more superhero stories, Syd Wong has been covering the latest DC television premieres and crossover events!