Take a Virtual Tour of the Lab.
New requirements for energy efficient housing and buildings require changes to existing building envelope design and construction techniques. In addition, construction in the coastal region of BC is sensitive to high moisture levels resulting in materials deterioration and failure.   It is essential that construction technologists, designers, and builders are familiar with building envelope application technologies and even more so with high energy efficiency envelope systems.
The BCIT High Performance Building Lab has been developed in partnership with BC Housing and BC Hydro in order to provide hands-on training in zero emission buildings using an envelope-first approach.  This lab helps to create space for education that will elevate the state of practice of high performance buildings in BC.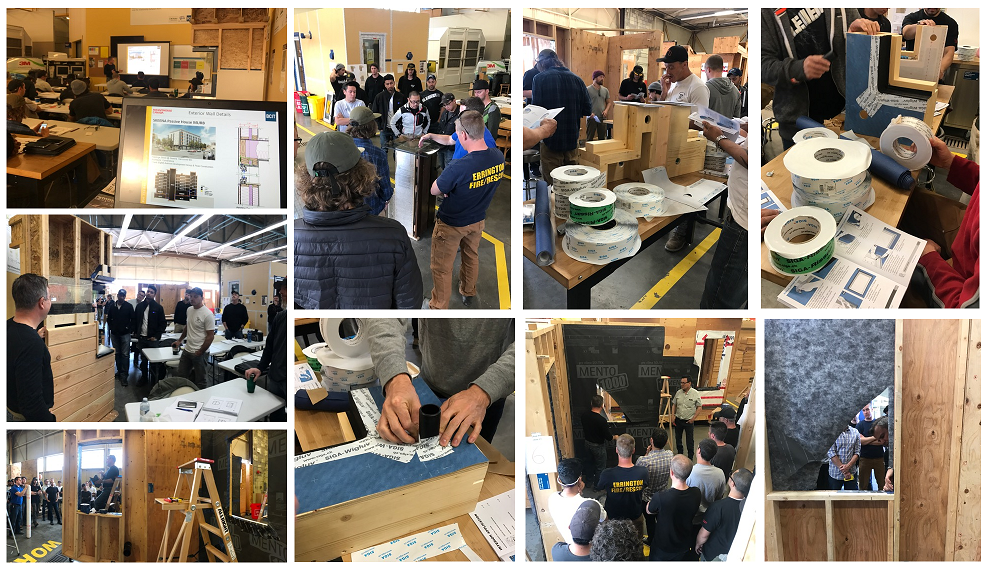 This building lab comprises of display cut-away assemblies, practice walls, an air tight house and a lecture area.  The display cut-away assemblies demonstrate a variety of framing, insulating, taping, and window interfaces. The practice walls are real size structures where students can practice the different high performance construction techniques.  The airtight testing hut is a small-scale building that brings together all the aspects of a high performance building system in a coherent example that is used for blower door tests training. It is also used to find and repair air leaks in the building envelope, and will soon be used to balance a residential HRV system.  Finally, the lecture area is located within the practice area and its 21st century classroom design allows easy back and forth between theory and practice.
This new BCIT School of Construction and the Environment lab includes:
Practice walls, including (but not limited to) the following HPO 22+ High Performance designs:

Split Insulated Walls
Exterior Insulated Walls
Double 2×4 Stud Walls
Deep Stud Walls with Service Wall

EWI (Engineered Wood I-Joist) (Larsen Truss)
Airtight testing house (10'x15'), including

Blower to perform blower door tests
Two windows, Two exterior doors

Display cut-away models

Showing finished wall assemblies (gypsum board to cladding) related to the practice wall types
Including a portion of window sill
These are located in the teaching space for on-going display

Lecture area, including

Audio-visual
Wi-Fi
Class space (tables and chairs for up to 45 students)
Educational permanent signage

Lab space, including

Open space for hands-on training
Tools required for trades training

Materials storage
The lab is located inside building NW3 on the BCIT Burnaby campus.
Lab Rentals:
The lab, including the cut-away assemblies, practice walls and air tight testing house (including blower) is available for rental to industry.  Standard rental includes the elements listed above. Additional material such as tape, insulation, flashing, etc. can be provided as part of rental agreement for an additional fee.
The lab is also available for booking (for industry events and private training).
Featured High Performance Building Lab Course:
CESA 1500– Passive House Tradesperson Training Course – Building Envelope Specialization
This five day course provides the knowledge and practical hands-on skills that building contractors, designers, consultants and advanced students need to build to the Passive House standard; an internationally recognized ultra-low energy standard. This course focuses on building enclosure optimization and provides a foundation in passive house principles, while stressing the importance of construction fundamentals and proper sequencing and using a variety of materials. An introduction to heat and energy recovery ventilators will be provided. Students who complete the course are eligible to write the exam to become a Certified Passive House Tradesperson – Building Envelope Specialization through the Passive House Institute. www.bcit.ca/study/courses/cesa1500 
Thank you to our lab partners: