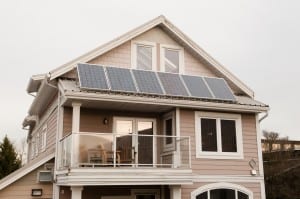 The AFRESH Home is a housing demonstration project located on BCIT's Burnaby Campus that showcases some of the most innovative yet practical ideas in sustainable housing today.
The AFRESH Home also serves as an applied research facility supporting research projects through the:
Centre for Energy Systems Applicaitons
AFRESH Home allows BCIT to work in cooperation with industry partners in the development and demonstration of new housing and construction products and technologies, such as the photovoltaic project currently displayed on the third level of AFRESH Home. In addition, the AFRESH Home project allows BCIT the opportunity to work in partnership with industry to assist and support the transfer of this technology, expertise and capability at an International level.
For more information visit: https://commons.bcit.ca/afresh/