For more information and to apply:  Sustainable Energy Management Advanced Certificate
---
CESA 5100 – Energy Basics        Fall 2021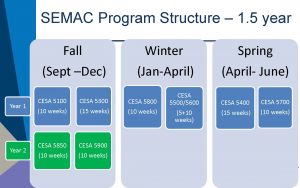 This course presents an overview of various energy uses, sources and cost structures, as well as strategies to reduce energy consumption and costs. Conventional and renewable energy sources are discussed. Strategies for energy conservation, fuel switching and changing to passive systems are examined. Behavioural changes as a conservation strategy are introduced. The rationale for sustainable energy management within existing buildings is explored. Prerequisite: Acceptance into the Sustainable Energy Management program.
---
CESA 5300 – Energy Systems      Fall 2021
This course presents an overview of various conventional energy dependent building systems, conventional active and alternative passive systems, and their interaction with each other, including lighting, heating, cooling, and ventilation. (Active: HVAC & R, pumps, fans, motors, boilers, lighting, non-lighting such as computing, and Passive: thermal mass, natural ventilation, shading, ground source and solar for pre-heating/pre-cooling, daylighting ). Students will examine non-mechanical building systems, such as building envelope, insulation, windows, glazing, as well as building systems controls. Strategies for existing buildings will be differentiated from those for new construction, with focus on energy management in existing buildings. Building performance improvements, including energy performance, through building recommissioning or continuous commissioning, will be examined. The course introduces energy performance simulation (computer modeling) as a tool to establish baselines and change scenarios for energy reduction strategies. This course also presents an overview of various industrial systems such as: compressed air, process equipment, pumps and material handling equipment. The building systems mentioned above will be elaborated upon for industrial buildings. An introduction to the components of and the advantages and disadvantages of various alternative energy sources such as wind, solar, geothermal, district energy, biomass, and heat recovery will also be presented. Prerequisite: CESA 5100.
---
CESA 5400 – Operations Management –  $946.32   –    Tue Mar 16, 2021 – Fri Jun 25, 2021
This course presents the actions, policies, strategies and management systems required by Energy Managers to effectively manage facilities energy use and liaise with day-to-day operations. An overview of various energy-dependent business operations such as: fleet, procurement, and less energy intensive related alternatives will also be presented. Where possible, field trips to actual sites to see energy monitoring, DDC, asset and Maintenance management systems and to discuss day to day issues with field experts will be scheduled. Prerequisite: CESA 5100.
---
CESA 5500 – Codes and Standards      Winter 2022
This course presents an overview of various energy policies, laws, codes, standards, and building rating systems for existing buildings including the Model National Energy Code of Canada, ASHRAE Standards 90.1, BC Energy Code, Vancouver Energy Bylaw and LEEDTM Building Rating Systems. The course also introduces energy requirements, targets, and performance measures currently mandated or suggested as best practices, as well as upcoming further reduction requirements. Prerequisite: CESA 5300.
---
CESA 5600 – Energy Audit  –  $624.09  –    Tue Feb 9, 2021 – Fri Apr 23, 2021
The course presents an overview of energy audits aimed at identifying opportunities for energy cost and greenhouse gas reduction in existing buildings. Students will gain an understanding on how to procure an energy audit, how to carry out an energy audit, how to evaluate energy audits competed and how to plan for the implementation of the findings. Students will also be able to specify, procure, and review energy audits. In addition, students will perform high-level energy audits. Prerequisite: CESA 5300.
---
CESA 5700 – Decision Making  –   $624.09  –    Tue May 4, 2021 – Fri Jun 18, 2021
This course presents an overview of various decision-making tools and methodologies. Performance indicators examined include: direct and indirect financial costs and benefits, and non-monetary costs and benefits. Emphasis is placed on full life cycle costing, assessment and energy analysis. Prerequisite: CESA 5600.
---
CESA 5800 – Change Management   Winter 2022
This course is aimed at changing personal and group attitudes and behaviors. It introduces concepts of organizational behavior and change management, including group effects, motivators, and communication techniques, to help facilitate organizational change towards a corporate culture of energy conservation and reduction. The course explores negotiation concepts and processes, focusing on joint problem-solving and decision-making. Prerequisite: CESA 5100.
---
CESA 5850 – Strategic Planning for Energy Management      Fall 2021
This course presents an overview of strategic management theory and practice as it relates to the role of energy management professionals. Topics cover strategic management tools such as: business case development, strategic energy management plans and reporting structures. Also explored are corporate social responsibility drivers and corporate ethics as relevant underpinnings driving strategic organizational change. Prerequisites: CESA 5700 and CESA 5800.
---
CESA 5900 – Project Development       Fall 2021
This course presents an overview of the full scope of the development of an energy management project. The course provides a practical opportunity to bring together all the components of an energy management project learned in the Sustainable Energy Manager program by preparing an energy management project plan for a real business or building. Various project delivery methods, financing models and perspectives on gaining executive approval are explored. Prerequisites: CESA 5100, CESA 5300, CESA 5400, CESA 5500, CESA 5600, CESA 5700, CESA 5800 and CESA 5850.
---