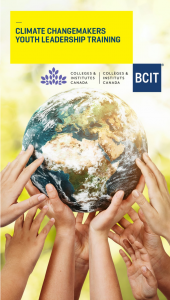 The Centre for Ecocities collaborated with Colleges and Institutes Canada (CICan) to deliver the first cross-Canada pilot of Climate Changemakers Youth Leadership Training on April 9th, 2021.
This initiative provided the foundation for a broader global programme the Centre for Ecocities is developing with input from staff from UN-Habitat and the United Nations Environment Programme (UNEP).
The initial three-hour webinar provided training for youth to become climate change leaders in Canada. The primary participants were those involved across the country in CICan's Career Launcher program, a federally funded initiative that helps young emerging professionals find employment. BCIT's alumni and students were also invited to be part of the training.
Through the pilot training, participants learned how to leverage their impact as sustainability and climate leaders through whatever career path they choose.
The Climate Changemakers Youth Leadership workshop provides engaged young leaders with the skills, attitudes, knowledge, and experience needed to increase their capacity to influence positive change in their communities and unpack and promote a carbon neutral "one planet" lifestyle. The training provides:
An overview of sustainability challenges, orientation to the UN Sustainable Development Goals, and an introduction to science-based and action-oriented tools drawn from the World Environmental Situation Room (UNEP), the City Prosperity Index (UN-Habitat), and the Sustainable Living Protocol developed by the British Columbia Institute of Technology (BCIT).
Leadership training, including how to organize and coordinate climate impactful projects in communities.
Communication training in social media and inter-governmental communications.
These skills empower the youth to become "Climate Changemaker emissaries".