The 26th Conference of the Parties (COP26) is in full swing in Glasgow, Scotland. This annual United Nations Climate Change Conference will run October 31 – November 12, 2021. The summit brings together governments, non-profit organizations, and others from around the world to make efforts toward the goals of the Paris Agreement and the UN Framework Convention on Climate Change.
The first of the public events at COP26 was a session titled "Catalysing our Net Zero Future: working with people to take action on climate change".
Among the climate and community action expert speakers was Dr. Vanessa Timmer of OneEarth Canada. Dr. Timmer spoke on the One Planet Saanich initiative for which the Centre for Ecocities provides technical expertise.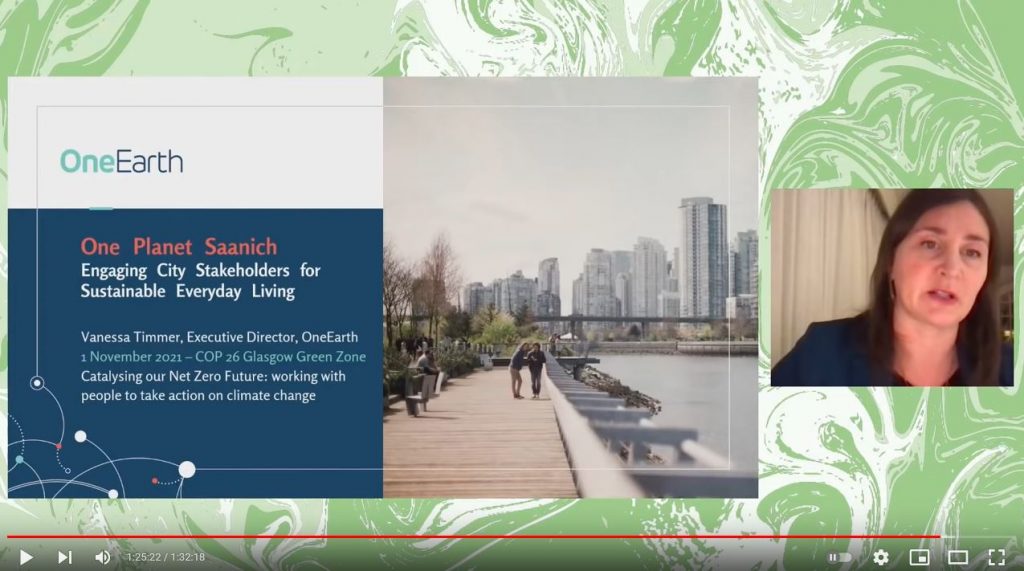 Saanich and others within the Centre's Ecocity Peer Network have been piloting the ecoCity Footprint Tool and Lighter Footprint App in their communities to ensure they are using only one planet's worth of resources. These tools help them better measure and manage their ecological and carbon footprints needed to live within Earth's carrying capacity. We highlighted the great work of the District of Saanich earlier this year.
You can watch the edited recording of the Catalysing Net Zero Future session at COP26, including introductory remarks by renowned climate scientist Dr. Katherine Hayhoe. Dr. Timmer's presentation begins at the 1:23:52 mark of the video).