By Christina Olsen
Urban October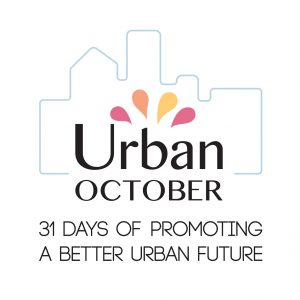 is a global initiative started by UN-Habitat, the United Nations agency dedicated to human settlements and sustainable urban development.
Throughout the month, organizations around the world take part in events related to sustainable communities. Centre for Ecocities team members took the opportunity to share some of our work at Innovate4Cities, an international gathering co-hosted by UN-Habitat, the Global Covenant of Mayors for Climate and Energy (GCoM) and the IPCC.
Cora Hallsworth led a session with Brad Badelt, Assistant Director of Sustainability with the City of Vancouver, and Glenys Verhulst, Sustainability Planner with the District of Saanich. They talked about how ecological footprints and consumption-based emissions inventories help cities take action on climate mitigation. The session recording is available online: "Consumption-based sustainability metrics help local governments understand their fair share of climate action"
Christina Olsen led a session on youth climate action with speakers from around the world, including colleague Pilar Bonilla who shared details of our Climate Changemakers curriculum. Youth climate activist Leah Naugerwa joined from Uganda to give a rousing call for more support of youth taking action. Miroslav Polzer of the Global Citizen and Youth Empowerment System (IAAI GloCha) explained how the DigitalArt4Climate initiative uses blockchain technology to inspire climate action, give voice to creators of all ages, and create new resources in support of youth climate action. We were also honoured to have María Dolores Corujo Berriel, President of the Island Council of Lanzarote in the Spanish Canary Islands, contribute to our session. She talked about the fight by young people against the climate emergency and Lanzarote's commitment to sustainability. The session recording is available at: "Climate Changemakers Youth Leadership Training: Empowering Young People for Action".
Learn more about how the Centre and BCIT are contributing to SDG 11: Sustainable Cities and Communities.