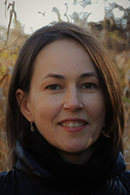 The Centre for Ecocities would not have its many successes without the hard work, dedication, and vision of its team. Driving our core work with municipalities and other stakeholders is Cora Hallsworth, Manager of Ecocity Initiatives and Municipal Programs. Cora brings more than 20 years of experience advancing community and organizational sustainability to the Centre for Ecocities team.
Cora's career began with the Recycling Council of Ontario where she coordinated Waste Reduction Week and launched the Ontario EcoSchools Program – which has now evolved into EcoSchools Canada.  She went on to work with consulting firms in Toronto and Vancouver, and in 2002, while living in Vancouver, launched Connecting Environmental Professionals (CEP). CEP is still active today, providing capacity building and networking opportunities to environmental and sustainability professionals in Vancouver.
At the Centre, Cora leads the application and pilot testing of the ecoCity Footprint Tool; helps municipalities understand and act on their ecological footprints and 'consumption-based greenhouse gas emissions; leads the Ecocity Peer Network; and speaks widely at conferences and other events.
In addition to her work with the Centre, she and Ryan Mackie lead a consulting practice, through which Cora leads the Greater Victoria 2030 District, among other initiatives.  She is also a Senior Associate with environmental "think-and-do" tank OneEarth, with whom she leads One Planet Saanich initiative, which is helping engaging organizations in Saanich to create and implement One Planet Living Action Plans.
Cora is deeply committed to advancing sustainability, and for her efforts was recently acknowledged by being included on the BC500, a list of leaders in BC business who have had a notable impact in BC communities, industry and economy. Cora is one of six included in the "urban planning" category.
Going forward, Cora will continue her efforts to advance collaborative, holistic and systems-based approaches to help solve our pressing sustainability challenges. The Centre for Ecocities applauds Cora's efforts to date, and looks forward to continued work together to create socially just cities in balance with nature.