Free workshop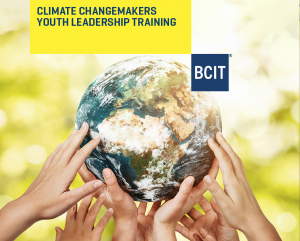 Climate action for cities should start with the most engaged climate emergency demographic: youth! Young people have demonstrated their ability to organize the Fridays for Future movement and undertake climate action globally with great impact. It is important to move beyond supporting the strikes and engage youths as emissaries to their communities.
After conducting a very successful pilot training with Canadian youth in April 2021, BCIT Centre for Ecocities, UN-Habitat and UNEP, are advancing their engagement with young climate leaders, through a curriculum designed to increase their capacity and knowledge of climate change issues and how to organize and combat it, in both developed and developing world contexts.
This training session is open to young people anywhere in the world who want to gain more knowledge and skills on: climate change, leadership, communications, governance, and actions they can take in their community. No experience necessary aside from an interest in making positive change on sustainability challenges like climate change. This training is designed in a way that will allow youth to adapt these new skills to any field or area of interest.
In honour of International Youth Day, the free online training workshop will be held on August 12th, 2021 from 9:00am-12:30pm Pacific time by Zoom. Pre-registration is required. Register here.
If you are having trouble registering, here is a direct link to the online zoom training workshop.