"Water is a finite and non-substitutable resource. As the foundation of life, societies and economies, it carries multiple values and benefits."  – UN Water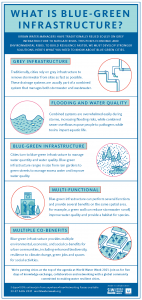 August 23 kicked off this year's World Water Week. World Water Week, organized by the Stockholm International Water Institute (SIWI), aims to link scientific understanding with policy and decision-making, concrete solutions to water, and environmental and development challenges.
SIWI suggests one solution is to build blue-green infrastructure (BGI). BGI is defined as a "strategically planned network of natural and semi-natural areas with other environmental features designed and managed to deliver a wide range of ecosystem service" which would help manage water quantity and water quality as well as contribute to the Centre for Ecocities' mission to build socially just and ecologically sustainable cities.
The UN World Water Development Report states that "better measurement, monitoring and understanding of the values of water, and their incorporation into improved decision-making frameworks … are essential for achieving sustainable water resources management."
The Centre for Ecocities is building toward a sustainable future by evaluating how we as humans interact with the environment through our consumption. Water is one of the components evaluated in the ecoCity Footprint Tool. Through the Tool we can explore the ecological footprint and greenhouse gas emissions impact of a community's water consumption.
The Centre is also academic lead for the Ecocity Standards, which help clarify what is required to achieve social just cities in balance with nature. 'Clean and safe water' is one of the 17 Ecocity Standards, given that water is essential for life and cities cannot be sustained without access to safe potable water.