Earth Overshoot Day marks the date when humanity's demand for ecological resources and services by individuals, governments, and businesses in a given year exceeds what Earth can regenerate in that year.
This year's Earth Overshoot Day lands on Thursday, July 29. A solemn defeat from last year's August 22 date, which was possible largely due to the pandemic induced lockdowns that contracted our environmental footprint by three weeks.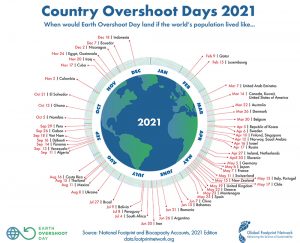 With restriction being lifted and people returning back to their regular routines, we have also returned back to our regular habits. The global pandemic has effectively shown that human consumption has made a climatic impact on the planet, but what factors contribute the most?
The ecoCity Footprint Tool and Lighter Footprint App (both currently being piloted in 10 BC municipalities) can help provide data so that cities can identify priorities for acting on climate change and unsustainable resource consumption to create actions for reduction.
"A growing number of local governments are interested in understanding consumption and the full scope of accountability for our emissions and emissions that are being produced in other parts of the world that associate with us." says Jennie Moore, Director of Institute Sustainability at British Columbia Institute of Technology (BCIT). "Control of production and manufacturing processes and engagement of citizens on how we can consume differently would greatly help close sustainability gaps."
BCIT continues to work towards its sustainability vision by exploring applied research and curriculum renewal, redeveloping our campuses as living labs, and facilitating ongoing community dialogue about sustainability with our students. BCIT was recently awarded a 2021 Environmental Star by the City of Burnaby (the City) for the student-constructed South Wetland Restoration Project located on the Burnaby campus. Wetlands are a biodiversity hotspot and store vast amounts of carbon dioxide to help mitigate the effects of climate change.
To learn more about Earth Overshoot Day and find out how you can help #MoveTheDate toward a more sustainable future, visit overshootday.org
To find out what your ecological footprint is, visit footprintcalculator.org