REIMAGINE. RECREATE. RESTORE.
Join the Centre for Ecocities in celebration of World Environment Day, an initiative brought forth by the United Nations to bring awareness to the protection and restoration of natural ecosystems.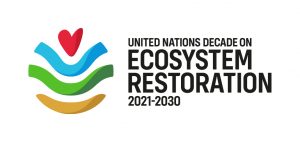 This year's World Environment Day kicks off the UN Decade on Ecosystem Restoration (2021-2030), a global mission to restore and repair our damaged areas of forest, farmland, ocean and more.
Thanks to the brilliant leadership of Ken Ashley, Director of Rivers Institute, BCIT has been recognized for its exceptional commitment to ecological restoration. The City of Burnaby has awarded BCIT the 2021 Environmental Star award for the campus' South Wetland Restoration Project. The three day project involved students from the Ecological Restoration programs removing invasive plant species, monitoring groundwater levels and planting native species to build a wetland on the South-end of BCIT's campus.
This project contributes to the United Nations Sustainable Development Goal 15, which focuses on the protection and restoration of biodiversity and natural ecosystems, and Goal 6 which highlights the restoration of water-based ecosystems, specifically.
Restored green spaces such as this area are essential for healthy cities and communities. The United Nations estimates that for every 1$ invested in restoration, anywhere from 7$ – 30$ dollars in returns for society can be expected – representing just some of the many ways that we can work towards socially just cities in balance with nature.
Together we can be #GenerationRestoration. Check out the official Event Schedule.