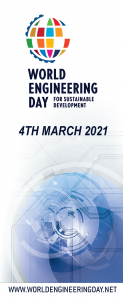 Written by Cameron Ellis, BCIT Technical Writing student.

March 4th, 2021 is World Engineering Day – a recognition of the work done by engineers in a dynamic modern world, and a spotlight on the importance of engineering and technology as part of a sustainable future. This year's theme is "Engineering for a Healthy Planet – Celebrating the UNESCO Engineering Report". The event will be celebrating the launch of the 2nd UNESCO Engineering Report, titled "Engineering for Sustainable Development: Delivering on the Sustainable Development Goals." Published 10 years after UNESCO's 1st Engineering Report, the latest features the 2030 Agenda for sustainable development, looking to the future of engineering as it aims to close the sustainability gap through exciting innovation and global cooperation.
Engineering plays a significant role in the goals of the Centre for Ecocities. Engineers are often responsible for the technologies that cities can implement in their sustainability strategies, including green roofs, living walls, smart micro-grid technology. To help rationalize the need for these cutting-edge technologies, the Centre is gathering data with the ecoCity Footprint Tool, piloted in 10 cities throughout British Columbia. When used by city officials, the tool provides an assessment of the ecological footprint of their communities. From there, we can provide recommendations that put the communities on a path to sustainability. The Centre for Ecocities now also has four BCIT engineering students to assist with analysing these sets of data, as well as moving toward urban restructuring tailored to the communities' needs.
Why are the UN's sustainable development goals so important?
Growing Environmental Engineers TEDx talk: