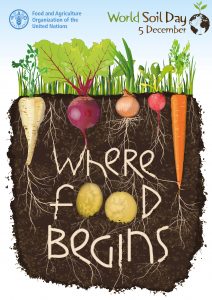 December 5th, 2020 is World Soil Day – the United Nations Observance that celebrates healthy soils for a food-secure future. This years' campaign "Keep soil alive, Protect soil biodiversity" focuses our attention on the workers that live in the soil – from tiny bacteria to agile millipedes and earthworms – all of which contribute to processes that are indispensable to life on Earth.
These days biodiversity loss is a worry – and soil is also affected. Soil is home to more than 25% of our planet's biodiversity. There are more living creatures in a single teaspoon of healthy soil than there are people on Earth. Soil organisms are responsible for many critical ecosystem services, on which humans depend: from supporting plant growth, to storing carbon and being a vast reservoir for pharmaceuticals. But soil biodiversity is under pressure! Unsustainable soil management affects life below ground (from www.fao.org/world-soil-day).
To learn more, check out the Ecocity Insights article on Healthy Foods, Soil and Climate by Dr. Jennie Moore.
Check out the video below from the Food and Agriculture Organization of the United Nations. It gives a brief introduction on the main drivers, the key functions and challenges of soil biodiversity loss, indicating possible ways to enhance soil biodiversity as a nature-based solution.