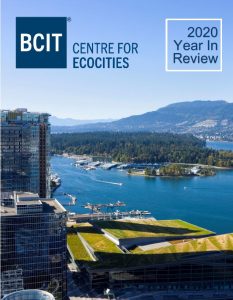 We are pleased to present the inaugural annual report from the BCIT Centre for Ecocities.
Our Mission is to help cities and communities close their sustainability gap. We deliver on our mission through applied research, education, and advisory services.
We achieved a great deal this year despite the onset of the global pandemic. We built partnerships, developed relationships, and worked with municipalities, students, faculty, and other collaborators to drive transformative change locally and globally.
We are excited to create new ways to serve cities, BCIT's students and faculty, and others around the world who can benefit from ecocity focused applied knowledge and training. Whether through micro-credential courses or other accessible real-world learning, we see a path ahead filled with opportunities to help cities and their citizens achieve sustainability in all its dimensions.