Updated – Workshop: Ecocities Emerging: Exploring the Role of Business in Transforming Cities.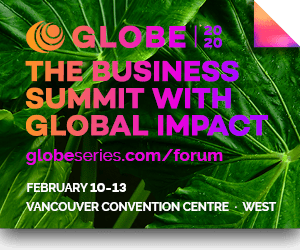 Please join us on Wednesday February 12th from 10:45 – 11:45 at GLOBE 2020. Our Ecocity Centre Manager Christina Olsen will be leading a workshop exploring the role of business in transforming cities.
With over half the global population living in cities, how cities enable citizens to live sustainably becomes an essential consideration. Cities that are making commitments to climate action, staying within planetary boundaries and supporting just transitions recognize the pivotal role that business plays for implementation. In this workshop, we will explore the model's risks and opportunities for business as we ask:
What is the ecocity model and what barriers lay in the way of implementation?
What are the hotspots to focus on in order to achieve sustainable lifestyles?
What is the scope for business leadership in achieving resilient cities and responsible lifestyles?
FEB 10          | GLOBE Exchange
FEB 10-13     | GLOBE Forum
FEB 11-12     | Innovation Showcase
Given the urgency of the global climate crisis, GLOBE 2020 will have a laser focus on impact, action and outcomes. Offering stellar growth and networking opportunities to thousands of corporate, government and young leaders, GLOBE 2020 is the business summit with global impact.