Youth and Informal Settlements: Engagement for Global Action Online Summit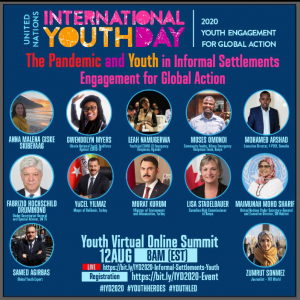 Please join our Dr. Jennie Moore and UN-Habitat Youth for a Youth Virtual Online Summit to hear from youth leaders and their adult supporters who are taking action to keep our communities healthy on Wednesday August 12th at 8AM (EST).
Host Organizations
Ministry of Environment and Urbanization of Turkey
United Nations Human Settlements Programme (UN-Habitat)
Balıkesir Municipality, Turkey
Habitat Norway
Background
The COVID-19 pandemic has hit the world's most vulnerable people the hardest, including the one billion people living in informal settlements and slums worldwide. These areas are densely populated with inadequate water and sanitation, little or no waste management, overcrowded public transport and limited access to formal health care facilities. It is very difficult for people to follow many of the suggestions by the WHO such as socially distancing, and masks can sometime be an extra burden on already low incomes.