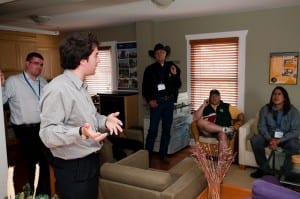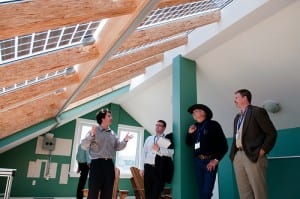 Due to extensive use of the AFRESH Home for education and applied research, tours can be scheduled during the following times and are subject to availability:
Wednesday afternoons between the hours of 1:30 p.m. and 3:30 p.m.Thursday mornings between the hours of 9:00 a.m. and 12:00 p.m.
To arrange for a tour at the AFRESH Home please contact Alexandre Hebert, BCIT Energy and Sustainability Manager at e: alexandre_hebert@bcit.ca or t: (604) 451-7011.
To ensure safety and security of people and equipment within the AFRESH Home, all tours must be accompanied by a School of Construction and the Environment employee. The School is not responsible for catering, clean-up, or repair to any damage resulting from a tour. Recovery of costs incurred as a result will be cross-charged to the organization or BCIT department that books the tour. Finally, the AFRESH Home also serves as office space for employees. Tour groups are asked to respect the employees whose office environment will be affected by traffic and noise.