Durable Building Envelope: Keeps You Warm and Dry
A home's building envelope is all that stands between its occupants and the elements. With a well-designed building envelope occupants are comfortable all year round, and use less energy for heating and cooling – lowering operating costs. Durable, long-lasting materials mean that occupants conserve resources and save on maintenance.
AFRESH Home's envelope – the exterior walls, roof and foundation – is airtight, well insulated and uses energy-efficient windows. The home was built in modules in a weather-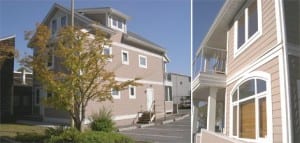 protected factory setting, a method that ensures tight quality control and a dry building. It's constructed of long-lasting materials such as a standing seam metal roof, fibre reinforced cement beveled siding, and pressure-treated wood decking.
To really be durable, the building envelope must effectively manage moisture. Large amounts of trapped water can cause a home to prematurely degrade; symptoms such as mould, mildew, and wood rot may appear. There are many ways for water to get into a building envelope: rain and groundwater can penetrate, water vapor from cooking and bathing can pass through the envelope and condense on cold surfaces, and wet lumber or other building materials may be used during construction.
AFRESH Home keeps water out with a rain screen wall assembly and CMHC's 4-D moisture management principle. Durable building materials are used in areas of the envelope that often get wet. Water is deflected from the envelope by roof overhangs, canopies, flashing and beveled siding. The exterior wall is drained by a cavity behind the cladding and directed down to a metal flashing and back out of the wall. Any water vapor that reaches the stud cavity can pass back to the outside through the moisture barrier, allowing the structure to dry.
Earthquake-resistant Construction: Stands up to Disaster
You can take steps to improve a home's chances of surviving an earthquake – steps that will increase the occupants' personal safety during the quake, and their chances of being able to live in the house afterwards.
For most homes the cost of seismic upgrading is relatively inexpensive, and insignificant when compared to the cost of catastrophe. When deciding what to do keep this in mind: any amount of upgrade is an advantage – even minor improvements can make the difference between repair and ruin.
Earthquake-resistance is built into the design of AFRESH Home. The house is bolted to the foundation and exterior walls are reinforced with plywood sheathing. Metal ties attach floors and walls in case of an earthquake and the exterior walls are reinforced with plywood sheathing. To ensure good load distribution, the builders used ample quantities of nails that embed securely, and metal ties to attach floors and walls.