Good for You and the Environment
Did you know that indoor air can be more polluted than the air you breathe outside? Healthy housing is an approach to housing that considers the effect of your home on occupants' health and on the environment. Poor indoor air quality can trigger asthma and allergies, and it can also be the cause of common ailments such as a stuffy nose, headaches, and fatigue. The irritants floating in a home's air may range from relatively minor ones, such as dust mites and animal hair, to the more serious problems of mold and gasses from building materials,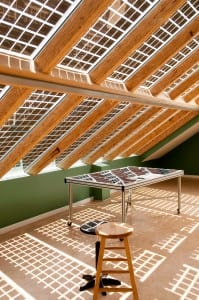 furnishings, cleaning products, and heating systems.
A healthy home is one that helps occupants breathe easier. In addition to being well ventilated, it's constructed and furbished with materials chosen to reduce off-gassing. For example, in AFRESH Home, a heat recovery ventilation system supplies fresh air to all living spaces, and exhausts moist, stale air from the bathrooms and kitchen benefiting people with asthma or other respiratory conditions. Low-emission plywood and finishes, hardwood and ceramic flooring, solid wood cabinet face frames, moldings and baseboards also help to keep the air clean.
Ventilation
A heat recovery ventilator (HRV) operates continuously at low or medium speed to supply fresh outside air to all living spaces, and exhaust moist, stale air from the bathrooms and kitchens. With the flick of a switch, occupants can increase its speed to quickly clear stale air from a room. The heat from the outgoing stale air is transferred to incoming fresh air -lowering your energy bill. As with the heating and cooling system, separate HRV systems on each floor ensure that air, odors, sound and fires are contained.
Heating and Cooling
The boiler feeds hot water to heating coils and air handling units on both the first floor and in the attic. Warm air is distributed through ducts and separate systems on each floor ensure that air, odors, sound and fire don't travel. The system also includes provision for summertime cooling.