A Home for Life
AFRESH Home addresses key housing issues facing today's homeowners: families in flux, concerns about personal health, the environment, durability and affordability.
It's an affordable, durable, healthy and environmentally conscious home that is designed to change easily as the lifestyle of its occupants change. Using off-the-shelf technology, a flexible design, and health-conscious, high quality building practices, AFRESH Home creates a home in which its occupants can be comfortable for life.
Adapts to Occupants Needs
The flexible housing design features incorporated into AFRESH Home responds to the needs of today's families, which contract and expand as single-parent households become blended families, adult children leave home, and aging parents move in.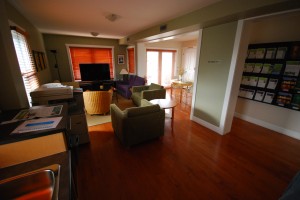 It's a design that supports independent living for senior citizens and people with disabilities. It's design for life. The key to flexible housing design is to think about what the occupant's long term requirements may be before building or renovating, and to then build in the necessary features during construction. As occupant's lifestyle changes, their home can then be easily and inexpensively adapted to suit their needs.
Adding the right features now can save time and money later, and help avoid the heartache and inconvenience of leaving a neighborhood that is known and loved.
For example, in AFRESH Home space was effectively preplanned so that a large, single bedroom could become two rooms. Wide doorways and hallways make it easy to move furniture in and out, give the home an open, airy feel, and make it possible for a wheelchair to maneuver should a family member ever need one. In the kitchen, a simple upgrade to the sink counter ensures that it can be used safely and comfortably by anyone – short or tall.
One of the home's most exciting features is its floor plan – it can convert from a four-bedroom, single family home to a code compliant duplex with two bedrooms per unit. Creative preplanning of the mechanical and electrical systems means that the air supplies to each duplex suite are separate – odors and fires can't travel. It also means that the suites are relatively soundproof.
The house is designed to follow a family throughout its entire life cycle. Young homeowners can rent out one suite as a mortgage helper, and then reclaim the house as their family grows. When adult children head to university, they can offer them the suite, and later still, can use it to supplement their retirement income. With AFRESH Home there are as many possibilities as there are living arrangements.
FlexHousing Floor Plan
AFRESH Home can convert from a four-bedroom, single family house to a code-compliant duplex with two bedrooms per unit. You can also add a small first-floor office or bedroom at the front or back of the house, or a large first-floor master bedroom with an ensuite bathroom. For maximum sunlight, the living room can be located at the front or back of the house.
Near the entrance, stacked closets on the first and second floor can be turned into an elevator shaft. A chair or platform lift can be easily installed on the straight-run stairs.