Energy efficiency is integral to the AFRESH home design. At the time it was built in 2000 (Phase 1), a number of strategies were used to maximize energy efficiency, including materials, assembly, energy and HVAC systems, lighting and appliances. From 2006 to 2009 (Phase 2), the Home was retrofitted with newer energy system technologies and other features (see list below). Today AFRESH Home is demonstrating the integration of a variety of alternative energy systems thanks to the Distributed Power Connections Study undertaken in partnership with BC Hydro. The AFRESH Home is capable of being a net energy producer.
Energy efficient elements include use of:
Fuel cell
Vertical axis wind turbine
Intelligent Microgrid Project
You can check out the energy usage at the pulse energy website.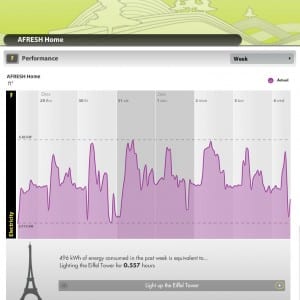 You can check out the energy generated from the Afresh house and other BCIT buildings here. Our goal is to make the AFRESH house a net energy producer.  In order to do so we are:
minimizing the consumption of energy in the house through the use energy efficient equipment, smart technologies and occupant behaviours;
producing on-site energy through solar PVs, a fuel cell and a vertical axis wind turbine.
If you want to know how well we are doing, please visit the two websites listed above.  The first one will tell you how much we are using and the second one will tell you how much we are producing, in real time!  If the difference (during the day, the week or the year) is positive, it means we reached our goal of making the AFRESH a net energy producer.
More information about the energy efficiency of the Afresh home can be found in the case study, see AFRESH – Case Study.
An overarching goal for the Factor 4 Initiative is to reduce energy and materials consumption without compromising service levels. Transforming the AFRESH Home to become a net energy producer enables the home to run more efficiently and to use renewable energy sources. However, whether these technologies actually contribute to a net reduction of energy and materials consumption when their embodied energy is considered in addition to the materials consumed to retrofit the Home is unclear.
To address this challenge, projects are being evaluated over their entire life cycle to determine whether they provide a net contribution of benefit. Determining whether installing a new system is going to actually reduce or merely displace energy and material demands in the context of an integrated system is key to making smart decisions about what projects to implement and why.